Menu
Upgrading Active Directory
Introduction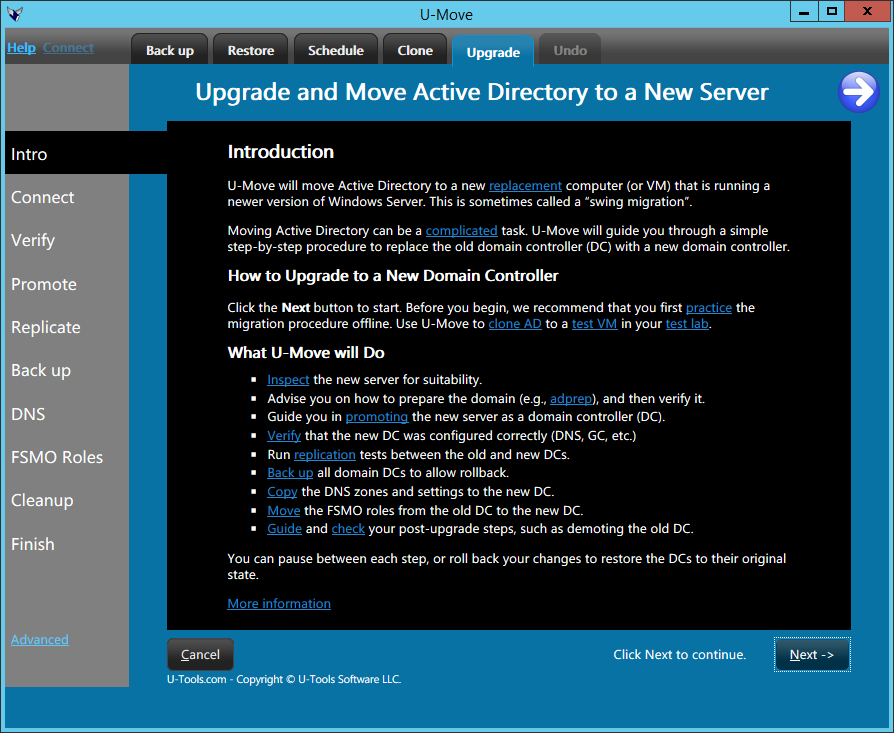 U-Move will help you move Active Directory to a replacement computer (or VM) that is running a newer version of Windows Server. This is sometimes called a "swing migration."
Moving Active Directory can be a complicated task. U-Move will guide you through a simple step-by-step procedure to replace the old domain controller (DC) with a new domain controller while checking you each step of the way.
Before you begin, we recommend that you first practice the migration procedure offline. Use U-Move to clone AD to a test VM in your test lab.
What U-Move will Do
Inspect the new server for suitability.
Advise you on preparing the domain (e.g., adprep).
Check the schema and functional levels and advise you if they need to be raised.
Guide you in promoting the new server as a domain controller (DC).
Verify that the new DC was configured correctly (DNS, GC etc.)
Run replication tests between the old and new DCs.
Back up all domain DCs to allow rollback.
Move the FSMO roles from the old DC to the new DC.
You can pause between each step, or roll back your changes to restore the DCs to their original state.
When upgrading, U-Move will assist you and print reports on your progress but it will not do everything for you. (Cloning is a fully automatic process.)
For more information
See Preparing for the Upgrade, Performing the Upgrade, and Completing the Upgrade.
U-Move for Active Directory

Backing Up Active Directory

Restoring Active Directory

Cloning Active Directory

Upgrading Active Directory

Introduction

Supported OS Upgrade Combinations

Preparing For the Upgrade

Performing the Upgrade

Completing the Upgrade

Advanced Topics

Remote Use and Scripting

AD Consulting and Repair Service

AD Recovery Service

Error Messages