Menu
Verifying the Suitability of the New Server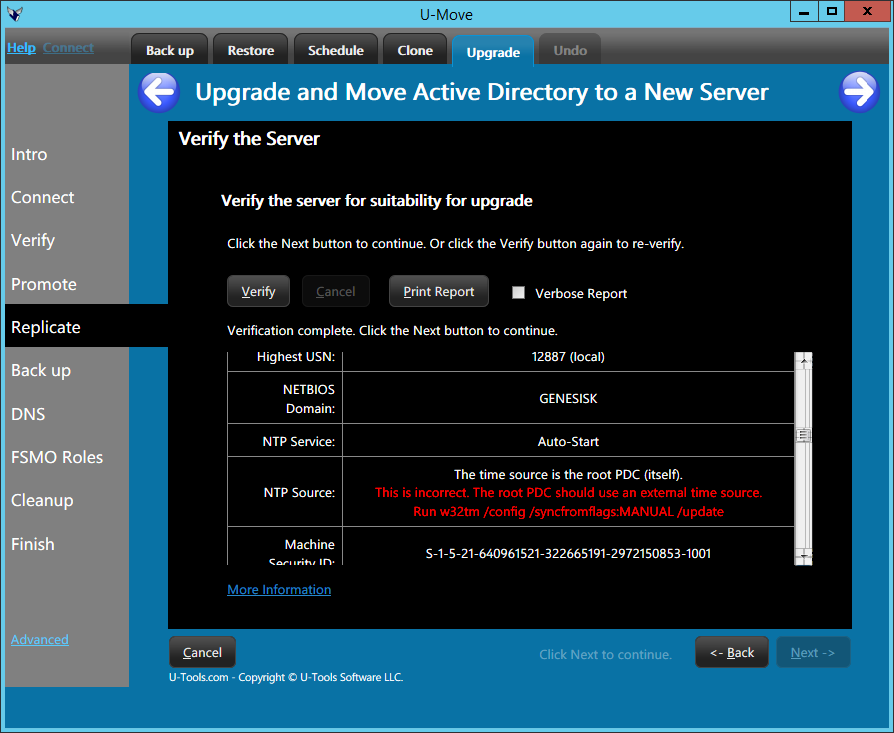 U-Move will inspect the installation of Windows Server on the new computer. It will report if it discovers any potential problems that might prevent you from successfully promoting the new computer as a domain controller (DC).
The verification process is automatic and includes the following:
Check the network connectivity to the new computer.
Report the network settings, including static IP addresses.
Check if you need to run adprep.
Check that the version and edition of Windows Server is suitable for the upgrade.
Check that the forest functional level and the domain functional level are both compatible.
Check that the necessary server roles have been added.
Check that DNS has been installed (if required) and enabled.
Check that DNS can successfully resolve the computer's name, including its fully qualified domain name (FQDN).
Test DNS delegation (Microsoft Docs) from the parent DNS zone to the Active Directory DNS zone.
Report other relevant information, for example if the computer can access the Internet, the name of the KMS server (if any), etc.
Additional tests after promotion
After you have promoted the new domain controller, U-Move will run several additional tests to verify that the new DC is working correctly. These tests include the following:
Verify that there is a good network connection between the old domain controller and the new domain controller.
Verify that Active Directory is accessible on both DCs.
Verify that the clocks on the DCs are properly synchronized for Kerberos authentication.
Verify that DNS was installed correctly on both servers.
Check that DNS can successfully resolve the address (A, AAAA) and server (SRV) records for the source DC and the destination DC, and that they do not conflict.
Verify that Global Catalog (GC) has been configured correctly and is functional.
Verify that AD replication and SYSVOL replication are working correctly.
Warn if Active Directory was not backed up.
Verify the Network Time Protocol (NTP) client and server settings.
In addition, U-Move will enumerate and display the list of FSMO roles and their respective owners.
Printing the Report
To print the verification report, click on the button Print Report. U-Move will generate the report as web page. It will be displayed in your web browser. You can use your web browser to print the report to your printer or other output device.
U-Move for Active Directory

Backing Up Active Directory

Restoring Active Directory

Cloning Active Directory

Upgrading Active Directory

Preparing For the Upgrade

Running Adprep

Installing Windows Server

Verifying the Suitability of the New Server

Adding the Server Roles

Promoting the Domain Controller

Backing up the Domain

Preparing a Test Lab

Remote Use and Scripting

AD Consulting and Repair Service

AD Recovery Service

Error Messages