Menu
Protecting Your Operating System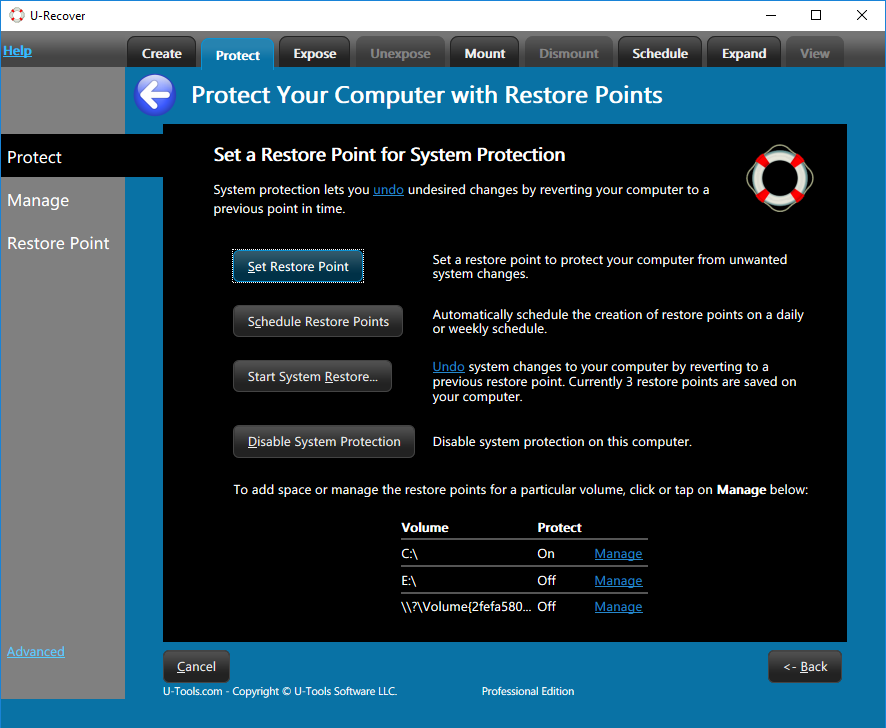 With U-Recover you can create a restore point to protect your computer from undesired changes. U-Recover can create a restore point on demand or on a schedule.
A restore point is a special kind of volume (disk) snapshot that can be used to to revert Windows back to a previous point in time. This capability, sometimes called System Restore or System Protection, is a built-in Windows feature that protects your Windows operating system (OS) from unwanted system changes such as bad applications or device drivers. See What is a System Restore Point?.
U-Recover: Access a restore point as if it was a volume snapshot
System Restore does not restore your documents, pictures, or other personal data. This is a significant limitation that reduces the usefulness of a restore point.
U-Recover removes this limitation by letting you expose a restore point as a disk letter. With U-Recover you can treat a restore point exactly like a regular volume snapshot. You can expose the restore point as a disk letter and view it just like any other disk, allowing you to copy your personal documents or files from it.
System Protection compared to other recovery methods
On Windows 10, Microsoft has deprecated System Protection (System Restore) in favor of File History and Reset your PC. File History saves your personal documents only. Reset your PC will restore your PC back to original install state while preserving your personal files and documents. Resetting your entire PC will remove all installed desktop applications, device drivers, app settings, and other customizations you might have made to your computer.
System Restore lets you restore your computer back to at a particular point in time instead of resetting the whole PC.
A system backup image is similar to a restore point in that it captures an image of the entire C: disk just like a restore point does. The difference is that a system image is stored offline on another device so if the C: disk is lost the system can still be recovered. However, a system image takes much longer to create (minutes or hours) than a restore point (seconds).
U-Recover Pro: Create Automatic Scheduled System Restore Points
With U-Recover Pro you can create restore points on an automatic schedule that you specify (daily, weekly, etc).
For more information please select one of the following topics:
U-Recover for Previous File Versions

Protecting Your Files

Protecting Your Operating System

What is a Restore Point?

Turning on System Protection

Setting a Restore Point

Exposing Restore Points

Managing Restore Points

Deleting Restore Points

Viewing Restore Points in Windows Explorer

Reverting to a Restore Point

Protecting Your Computer

Scheduling (Pro)

Unattended Operation (Pro)

Advanced Topics

Error Messages