Menu
Configuring Shadow Copies in Windows Explorer
If you selected the installation option to Integrate U-Recover with Windows File Explorer you can configure volume shadow copies from inside of Windows Explorer using the right-click menu.
Launch Windows Explorer (EXPLORER.EXE)
Navigate to the root of the disk volume that you want to configure (for example, C:).
While the cursor is over the root folder name, right-click the mouse button (or hold your finger down). A popup menu will appear (see below).
In the popup menu click or tap on Configure shadow copies (U-Recover)...
You will see the UAC security prompt. Click on tap on yes to continue.
---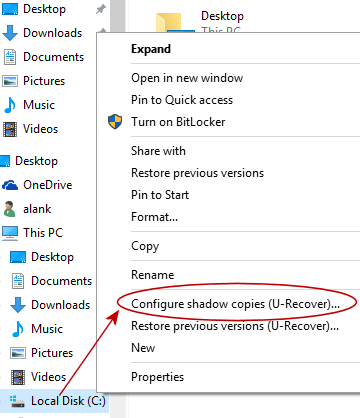 ---
U-Recover will automatically navigate to the panel for managing volume snapshots on the indicated disk volume.
For more information
See the topic Managing Volume Snapshots.
U-Recover for Previous File Versions

Protecting Your Files

Creating Volume Snapshots

Exposing Volume Snapshots

Unexposing Volume Snapshots

Managing Volume Snapshots

Deleting Volume Snapshots

Viewing Snapshots in Windows Explorer

Configuring Shadow Copies in Windows Explorer

Protecting Your Operating System

Protecting Your Computer

Scheduling (Pro)

Unattended Operation (Pro)

Advanced Topics

Error Messages