Menu
U-Move for Active Directory
Introduction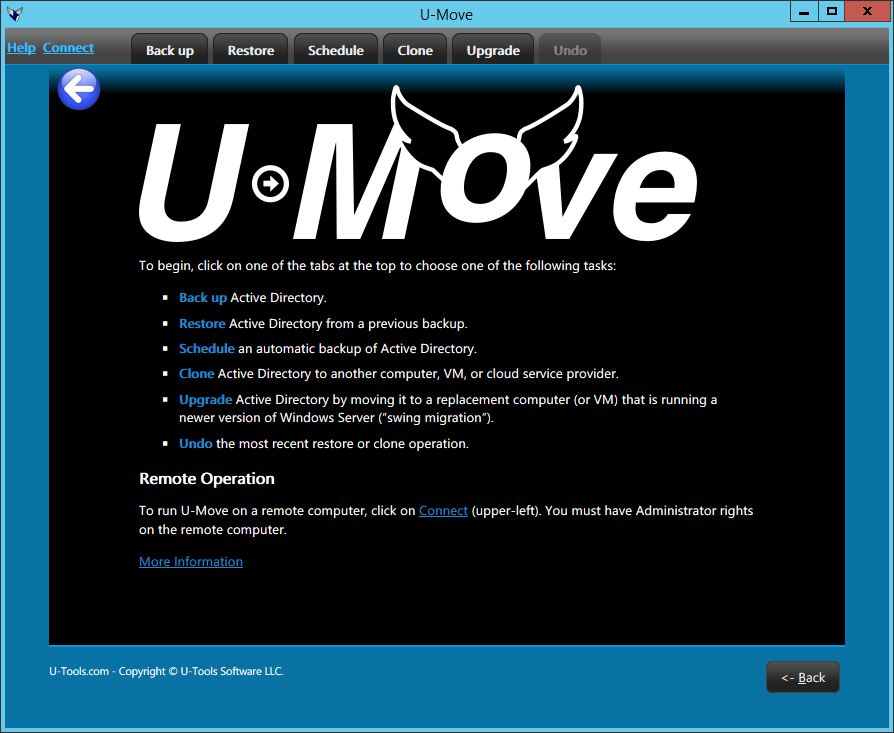 What is U-Move?
U-Move™ lets you move, recover, clone, or migrate the Microsoft® Active Directory® database for backup, recovery, testing, or upgrade.
U-Move allows you to do the following:
Make daily snapshots of Active Directory (AD).
Restore Active Directory from a backup.
Rescue Active Directory from a non-bootable computer.
Clone or copy Active Directory to a test computer or virtual machine (VM).
Migrate Active Directory up to the cloud.
Upgrade and move Active Directory to a replacement computer that is running a newer version of Windows Server.
We also offer an AD Recovery and Consulting Service to run U-Move for you while you watch.
Note: This document uses the term Active Directory for Active Direction Domain Services (AD DS). Other services such as Active Directory Federation Services (AD FS) or Active Directory Certificate Services (AD CS) will always be identified explicitly.
U-Move is part of the U-Tools software suite. For more information click a topic from the left panel. help menu (top).
U-Move for Active Directory

What is Active Directory?

Basic Requirements

Select the Basic Task

What's New in U-Move 2.9

What's New in U-Move 2.8

What's New in U-Move 2.7

What's New in U-Move 2.6

What's New in U-Move 2.5

What's New in U-Move 2.4

What's New in U-Move 2.3

What's New in U-Move 2

Compatibility

Backing Up Active Directory

Restoring Active Directory

Cloning Active Directory

Upgrading Active Directory

Remote Use and Scripting

AD Consulting and Repair Service

AD Recovery Service

Error Messages